How it works
How does it work?

    
When you join and

register

your account on

M2M Donations

,
first you must

activate

your account - by buying a postion in any matrix you choose to start with.
You buy a postion

by donating

to another member
To register and activate your account, follow the 2 easy steps:
Step 1. - If you were invited to join M2M Donations by a person referring you, you should access the register process using the referral link that you got from that person. In this way this person will be assigned as your sponsor, and you will be positioned in that person's downline.
 
If no person has invited your to join as a part of his/hers donation group, then just simply click on the register button in the menu, and follow the instructions.

In both cases, to register you will need an email address, and your Bitcoin wallet address on which you will receive donations.
Once you register, you will proceed to step 2.

Step 2. - To activate* your account, you must make a donation by buying a position in any matrix from the offer that you choose.
*- please note that your account that has been registered, but not activated(by donating) will be deleted after 72 hours.
    If that happens - no need to worry, after the account is deleted, you can sign up again just as you did before.
In order to buy a position, log in into your M2M Donations back office, go to Financial>Upgrade via the Back Office menu on the left.
There you will see a list of available matrices, and on the right side next to each of the matrices first Phase/Level you will see a green Donate button.
Press this button to initiate a position purchase in that matrix that you choose (see below for the explanation of every matrix)
Next, a new page will open, and a btc address and an amount in btc you need to donate will be shown.
- If you are using a mobile app for your wallet, the easy way is to just scan the barcode and the app will fill in the address and the amount automatically, requiring you to just press "pay" button to send the payment.
- If you are using a web wallet or a desktop app, then just copy/paste the shown btc address into the send payment form of your wallet app, enter the shown amount in BTC, and send the payment.

You have few hours to make the payment, after you initiate it by clicking on Donate button.
If in that time a transaction to a given btc address is not registered on the Bitcoin network by the payment processor, 
the purchase will be cancelled automatically. 

Few minutes after sending the payment from your wallet, the transaction will be registered by a payment processor,
and when the transaction gets confirmed you will get your position and your account upgrade soon after.
The whole process should not take more then 1 hour, from making the payment to account upgrade.    


After the upgrade process is complete, you will be notified by email, and the position that you have bought will be shown on your back office dashboard, under the appropriate tab with the name of the matrix that you have purchased the position in.
Once you are upgraded, you are ready to receive donations.
Only

the first position in the matrix has to be purchased manually,
and the rest of your advancement though the levels and withdrawal of received donations is taken care of buy M2M Donations automatic system.
You really don't have to do anything, it's all automatic!
 

All donations that you will receive are withdrawn automatically to your bitcoin wallet
after you are automatically upgraded to the next level/phase

.
System collects the donations that you receive, untill the moment you have enough for the auto-upgrade to next level/phase, and once the funds for that upgrade are deducted, the rest of the donations you receive are automaticlaly withdrawn to your btc wallet as soon as you receive them from a member in your downline. No need to request a withdrawal, it's all automatic and direct. 

Register

now

, and

send your first donation

as low as

0.002 BTC

to begin! 
That's all !
The rest will be taken care of by our automated system. Forever!
The matrices with a cycling function will repeat themselves forever, 
and will be withdrawing your earnings even when you are gone from this world! 


Now, when you are all set up with your M2M Donations account,
here is how

you

start to earn

by

getting donations

from other members.
All

 you have to do - is

refer 3 persons

to program!
 Your
3 personal referrals

, along with 3 referrals that each of your personal referrals will refer
-
12 persons in total

-
that is your
personal donation group

.
This group is what completes the first two levels of any matrix.
Rest of the levels are completed with members further down your downline.

You build this group

only once

, and here most of your job is done.
That's all !

Now and forever

!
The rest should be taken care of by persons that get referred further down your downline,
by the "
everyone referrs his/hers own 3

" rule.

With every next level of referrals the total number of referrals in your downline
multiplies by 3

.
First, there are you - 1
Then there are your personal referrals - 3
Then there are persons who your referrals refer - 9
and then the referrals of your referals referrals - 27
and so on to continue with 81, 243, 729, 2187 members, and so on..

If every new member in your downline needs one week to refer his/hers 3,
after 7 weeks you will live a 1 BTC/Day life !

 

It's that simple ! Now and forever!
And

all

everyone needs to do is

refer 3

persons to join his/hers downline !
---
---
Super Fast Startup

matrix
Great to begin with, 

ultra short

 cycling matrix.
SFS is a matrix of follow type,  and in this matrix you get donations from your

personal donation group

only. 
12 people in your downline

is all it takes

to complete the matrix.
And then it cycles on, forever. 
So, in SFS the success

only

depends on you and your personal donation group.
Your

first donation that you gave

 to enter the matrix

will be returned

as soon as you have your 3 personal referrals join the matrix in your downline! 
From that moment on - you start to earn.
The matrix recycles itself every time you complete the Level 2, and you start over from the beginning, but this time automatically, and with the 0.002 BTC taken from your Level 2 earnings.
In addition

, new positions in the

Follow Up

and the

Start Phase

matrices are

automatically purchased

from your Level 2 donations, so in that way you automatically prosper and start to earn more with a position in every matrix!  
And this is why this short and fast matrix is called

Super Fast Startup




It's a startup for your 1 BTC/Day life!

 
If you and your group start in SFS together, by natural order, you will be the first of your donation group to be able to enter Follow Up matrix in this way, and in Follow Up matrix your personal donation group will follow you, just like in this matrix.
But please keep in mind that the positions can also be purchased manually, and should a member of your downline manually purchase a position in a matrix that his sponsor is not in yet, he will be assigned a first available spot in the matrix, and not under his original sponsor(since he/she is not in that matrix) or his sponsors sponsor, etc. At least for that one cycle when he/she made a manual purchase. 


Super Fast Startup matrix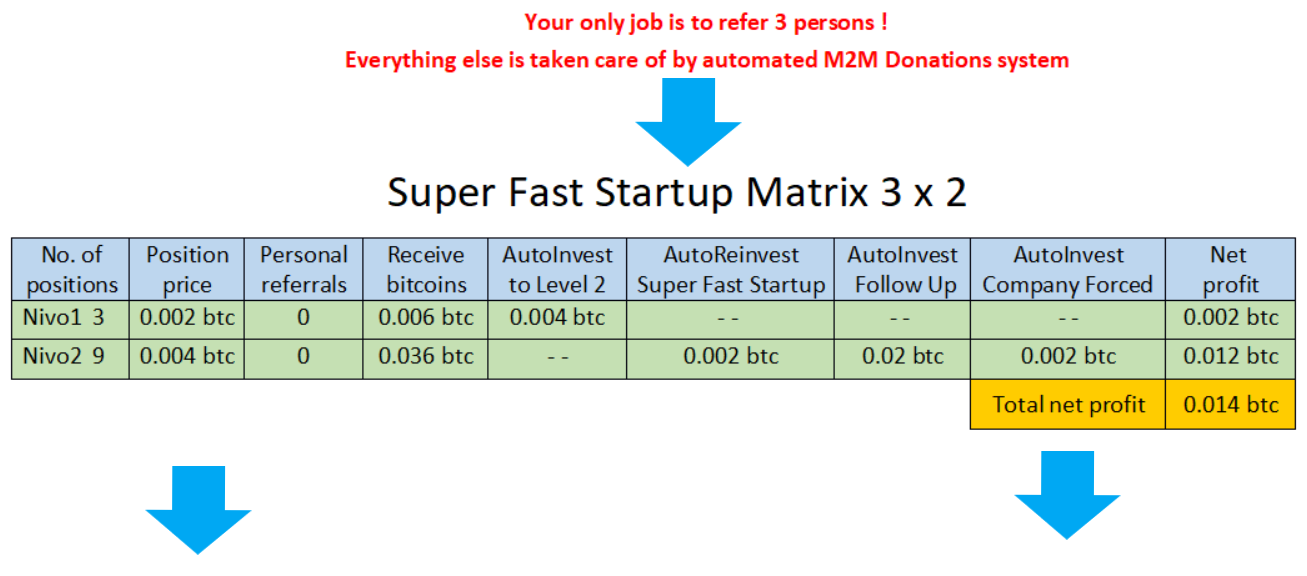 ---
---
Start Phase

 Company Matrix
Start Phase matrix is also a

good to start with

matrix, but it offers additional phases so you can

earn more

with a

single

automated and recyclable matrix.
This one however, is of forced type, which means that you don't get donations directly from your personal referrals and your donation group, but instead the positions in the matrix are filled chronologically from left to right as new members buy their positions, and the donations come from the matrix downline.


To insure fair-play, there is a minimum required number of 3 personal referrals
for each member in order to qualify for the withdrawals.



Each person refers 3

to the matrix - that is the very basic

building block

of this matrix.



If

you have started with

SFS

matrix first, once you are in the Level 2 of SFS, it will automatically purchase you a position in Start Phase matrix as soon as you collect enough donations to fund the automatic purchase.
Start Phase

 matrix not only is fully automatic,
but in addition

every phase completion

 purchaes a new position in the Level 1 and starts over into a new cycle!
So you don't wait until the end of the whole matrix to see benefits of recycling, 
but you see those benefits as soon as you complete one phase!
And every member from the downline follows you into that new cycle!
 


  Forever! 
Start Phase Matrix
---
---
Follow Up

 matrix
When you

earn your first

0.02 BTC in the Level 2 of 

SFS

 matrix, it will automatically purchase you a position in the

Follow Up

 matrix! 
Then of course, if

you are

in fact a

serious player
you will feel at home in the Follow Up matrix
right from the start
without

wasting

your

time

with the

smaller game, by purchasing a position manually.
Follow Up

is a 3 Phase matrix of follow type
which means that you receive donations from your personal donation group only.
The magic 12 needed for two levels.
Initial investment donation of 0.02 BTC is retuned just with your personal 3 referrals joining the matrix.  
From that moment on, you just earn.

Phases in this matrix recycle themselves automatically, when you get upgraded to the next Phase - the current one recycles by re-entry when a new position in that phase is given, so in this way the phases cycles forever.
This is where your 1 BTC/Day dream comes true!
Follow Up matrix
 

All you have to do is refer 3 persons to the program!

 
3 persons that will be able to do the same job as you did - refer their own 3, and so on for every new member down the line.
Only in this way will you see your dreams come true sooner then you think they could.
That's all!
Yes! You can do !